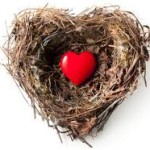 This year the almanac declared summer to run through September 23rd, but let's face it; the end of summer is marked by the start of a school year for parents with school-age children. I'll be honest, sometimes I have welcomed (okay, maybe even embraced) the back-to-school timeframe for what it meant to me: my social children and all their activities morphed back into a more manageable school day routine.
When my kids were young, summers were all about organizing trips to the water park, planning back yard pool parties, or scheduling sun soaked afternoons with friends at the beach. The structured school day brought a sigh of relief from the juggling act of play dates and carpools; a race to keep pace with a self-imposed challenge to squeeze in as much fun as one summer could hold.
When my oldest son Nick packed-up and left for college, I felt my world shift and tip off a balanced family axis. College wasn't the problem; it was all about location, location. The campus just happened to be in Oregon – only about 1000 miles from home. Nick was thrilled to start living the college life while I, candidly, was a bit gloomy. I had to remind myself that leaving for school was a passage in sync with my parenting goal of raising independent and self-sufficient children.
My empty-nester friend Sue shared her simple insight, "It'll get better, I promise."
Those four years of college flew by like the speed of light and our family axis was due to shift again. In June, Nick graduated from the University of Oregon signaling yet another new beginning: the second step to an empty nest. As my three 16-year-olds started their junior year of high school, Nick left home for Seattle and the start of a promising career.
For the first time in 22 years, I have an empty bedroom at the top of the stairs.
My last few days of summer were spent organizing and packing and boxing up Nick's room as we prepared for his move up north and out of our home. The finality of it all brings a new clarity to each day; instead of wishing away the busyness that comes with four active children, I find myself alert to embrace each precious moment.
Maybe it's maturity talking, but more likely the gentle whisper of friends who have survived this season of letting go, survived this second step to an empty nest. My friend's words come to mind yet again, "It'll get better, I promise."