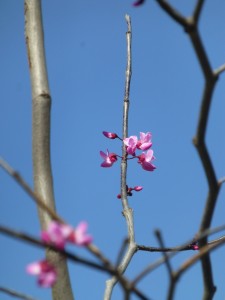 "But if we hope for what we do not see, we wait for it with patience."  Romans 8:25 (ESV)
After living in our home for almost twelve years, it was time to tackle a landscape renovation.  The fast-spreading root system of camphor trees toward the back were threatening our pool while the tall cyprus trees along the side held branches turning brown from disease.  It was a project I was looking forward to as much of the softscape needed a fresh look.
A large project loomed with lofty expectancy.  Bet you can guess where this is heading.
These were big, established trees coming out so the process required a professional tree service.  After a couple hiccups that tried my patience (actually, it was a quite an ordeal), eventually all the trees were down and their root balls removed.  Check.  I was ready to move on to step two.
I knew I needed the vision of a landscape company to tackle the rework.  The bare canvas of my yard opened up a door of possibility allowing Sarah, the landscape designer, to flex her creative muscles.  Her garden ideas were impressive, especially when shown on the computer generated images.  I couldn't wait to see these plants and materials come to life in my backyard!
Can you say instant gratification?  Not so fast.
The first few days after installation, I strode purposefully into my yard each morning anticipating great bursts of growth and color.  My eyes spied small plantings where full landscape (albeit overgrown) had once been.  I especially mourned the loss of privacy the cyprus trees had provided;   the new forest pansy redbuds resembled mere sticks in the dirt.  Let's be clear; Sarah did her part by educating me on how new growth starts underground as roots get comfy in their new home.  I even lived through this learning process with my fruit trees, but somehow I had a hard time letting this reality sink in.  Eventually I looked less often; better to let nature do it's magic away from my watchful eye.
"Why is patience so important?  Because it makes us pay attention."  Paulo Coelho
Unable to see the big picture, my eyes were drawn low to each plant noticing the tiniest of details.  I detected tender sprouts, fuzzy leaves, and tiny buds; signs of new growth on scrubs and trees were everywhere!  What about those redbud sticks?  Looking closely, I spotted magenta stems and pink blossoms breaking through on high branches carrying the promise of a spring canopy of color.
And then it hit me; I was experiencing exactly what Coelho described.  Now I delight in my daily adventure of poking around in my backyard.  My spirit is bright and my stride slow as I pause to embrace even the slightest bit of growth.  In the absence of grandeur, I've learned to appreciate the gentleness and greatness of nature.